Dear Friend,
More than a year ago, initial headline stories of Hollywood harassment shook our country. The #MeToo movement swept across the nation and is now globally renowned. People all over our planet continue to bravely, painfully, and honestly confront and discuss the depth of problems we face not just to end harassment, but to forge a new status quo honoring true equality of all people.
As an attorney, I began attending conferences, continuing education events, seminars and other meetings asking targeted questions about the ways we in the profession could begin to effectively advise clients toward truly preventingharassment as opposed to managing it. Unfortunately, I did not receive many innovative responses.
Then, a few short months into the unprecedented social justice movement, this happened: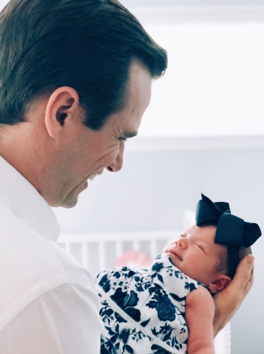 I became a father to the most precious, curious, innocent, daughter full of wonderment and joy. That very night in the hospital is when I decided that the status quo into which she was born was wholly unacceptable and that I would become an active voice to help change it. I vowed to fundamentally shift my career goals and become proactive toward achieving equality by joining so many brave, inspiring voices who continue to change the course of history. That eagerness to contribute my ideas related to ACTIVE Equality™ is my "why" for Sullivan Speaks.
Today I officially start that journey. After much listening, study, and consideration of our collective better way, today is when I begin fulfilling my vow to use my life and talents for a reality long overdue. Sullivan Speaks is my professional speaking and consulting business dedicated to vying for the existence every human being deserves. This venture is the beginning of my active role in our dream (hopefully) come true.
I hope you will join the conversation and our worthy pursuit! Sign up for my newsletter, connect with and follow me on social media, and bookmark my blog as I will continue showcasing vital information and proactive solutions to achieve equality together. You can also book me as a speaker or hire me as a consultant for your organizational leaders. I am honored to work with you and beyond excited about the change we can forge together.

Equality For All,


Brian J. Sullivan